Posts for: September, 2021
By Janis Dental
September 19, 2021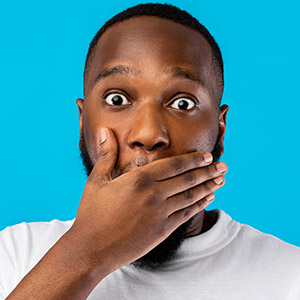 Some things in life are almost guaranteed to make you go, "Uh, oh"—your car won't start, your a/c goes out, or, worse yet, you get an unexpected letter from the IRS.
Here's another: One of your teeth is loose. And, if you don't act quickly, that loose tooth may soon become a lost tooth.
But first, we need to find out why it's loose. It's usually due to one of two types of injury related to your bite. One type is called primary occlusal trauma. This results from your teeth encountering higher than normal biting forces. This often happens if you habitually gnash or grind your teeth together outside of normal functions like eating or speaking.
The other type is secondary occlusal trauma. In this case, the supporting gum tissues and bone have been weakened or lost by disease, with the gum tissues possibly becoming detached. Without this support, even normal biting forces could loosen a tooth.
Our treatment approach for a loose tooth may differ depending on which of these is the cause. For primary occlusal trauma, we want to reduce the biting forces that have contributed to loosening the tooth. One way to do this is to create a mouthguard that when worn prevents teeth from making solid contact during grinding episodes.
For secondary trauma, we want to first focus on treating any gum disease responsible for weakening the gum tissues. Once we have it under control, the gums and bone tissues can heal and possibly regain and strengthen their attachment with the tooth.
At the same time, we may also need to stabilize a loose tooth to prevent its loss. This usually involves splinting, whereby we use neighboring healthy teeth to support the loose tooth. One way to do this is to attach a metal strip across the backs of the loose tooth and its more stable neighbors, or by way of a channel cut through the top biting surfaces of the teeth.
If a loose tooth regains its attachment with the gums and bone, it may stabilize and any splinting can be removed. If not, splinting may become a permanent solution. Either way, prompt treatment can help us save your loose tooth.
If you would like more information on treating loose teeth, please contact us or schedule an appointment for a consultation. You can also learn more about this topic by reading the Dear Doctor magazine article "Loose Teeth: Biting Forces Can Loosen Teeth."
By Janis Dental
September 09, 2021
Nina Parker, the host of Love & Hip Hop for six seasons, is now busy with the new game show Blockbusters and her own talk show The Nina Parker Show. But even with a full plate, she took time recently for some personal care—getting a new smile.
Parker's fans are familiar with her noticeable tooth gap. But a video on TikTok in February changed all that: In the video, she teasingly pulls away a mask she's wearing to reveal her smile—without the gap.
Parker and other celebrities like Madonna, Michael Strahan and David Letterman are not alone. Teeth gaps are a common smile feature, dating back millennia (even in fiction: Chaucer described the Wife of Bath as being "gap-toothed" in The Canterbury Tales).
So, what causes a tooth gap? Actually, a lot of possibilities. The muscle between the teeth (the frenum) may be overly large and pushing the teeth apart. There may be too much room on the jaw, so the teeth spread apart as they develop. It might also have resulted from tongue thrusting or late thumb sucking as a child, influencing the front teeth to develop forward and outward.
A tooth gap can be embarrassing because they're often front and center for all the world to see, but they can also cause oral health problems like complicating oral hygiene and increasing your risk for tooth decay. They can also contribute to misalignment of other teeth.
Fortunately, there are ways to alleviate a gap. One way is to move the teeth closer together with either braces or removable clear aligners. This may be the best approach if the gap is wide and it's contributing to misalignment of other teeth. You may also need surgery to alter the frenum.
You can also reduce less-pronounced gaps cosmetically with dental bonding or porcelain veneers. Bonding involves applying a type of resin material to the teeth on either side of the gap. After some sculpting to make it appear life-like, we harden the material with a curing light. The result is a durable, tooth-like appearance that closes the gap.
A veneer is a thin wafer of porcelain, custom-made to fit an individual patient's tooth. Bonded to the front of teeth, veneers mask various dental flaws like chips, deformed teeth, heavy staining and, yes, mild to moderate tooth gaps. They do require removing a small amount of enamel on the teeth they cover, but the results can be stunning—completely transformed teeth without the gap.
Getting rid of a tooth gap can be a wise move, both for your smile and your health. You may or may not take to social media to show it off like Nina Parker, but you can feel confident to show the world your new, perfect smile.
If you would like more information about treating teeth gaps and other dental flaws, please contact us or schedule a consultation. To learn more, read the Dear Doctor magazine article "Space Between Front Teeth."